Dragging and dropping emails can be fun, but if you get a lot of emails in one day and you don't have much time, it can be put off until another time and then you find there's too much to deal with. to go and you give up. Even if you're not in this situation, you can create a rule so that email from a particular person is moved to a particular folder as soon as it arrives. The trick here is to learn how to read the left side of the screen and see which folder has new unread emails waiting to be dealt with before diving into emails.
You can easily create a mailbox rule in Outlook. A mailbox rule in Outlook applies different actions to Outlook messages that meet a specific set of criteria and are sent to or received from the mailbox. You can apply multiple rules to one mailbox. Rules are applied in order from top to bottom through the list of rules created for that mailbox. They can also be changed or deleted later, if they no longer apply. Outlook also allows you to enable and disable them without having to delete and recreate them.
1.Select the Start icon in the lower left corner of the screen to open the Start menu, scroll down and choose Outlook .
2. In the top left corner of Outlook, select File.
3. From the File menu, on the Information tab, select Rules and Alerts.
4. This opens the Rules and Alerts window. On the E-mail Rules tab, select New Rule.
5. Depending on how the rule is set up, emails are moved for different reasons. Here are five different settings:
Move someone's messages to a folder
Move messages with specific words in the subject to a folder
Move messages sent to a public group to a folder
Mark someone's posts for follow up
Move RSS items from a specific RSS feed to a folder
6. The next step is to determine what criteria Outlook looks for when you open your Inbox. This can be as broad or specific as you want.
7. Once the option how to order is selected, there is an option at the bottom of the window to order more messages. All underlined text must be changed to a specific name or word. Select Next when you are done.
8. The next step is what to do with the emails. The default value is better in most cases because the email is simply moved to the specified folder. Choose Next once the action is selected.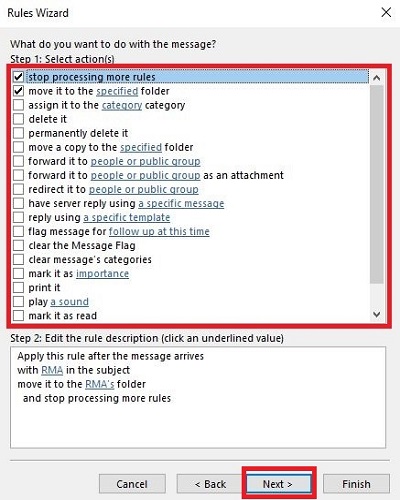 9. The next step is to add any exceptions to the rule. Once they are selected or there are none, choose Next.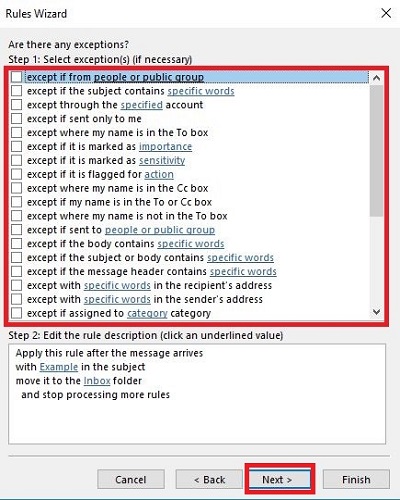 10. Enter a name for the rule and check the box for Run this rule now on messages already in the Inbox, then select Finish.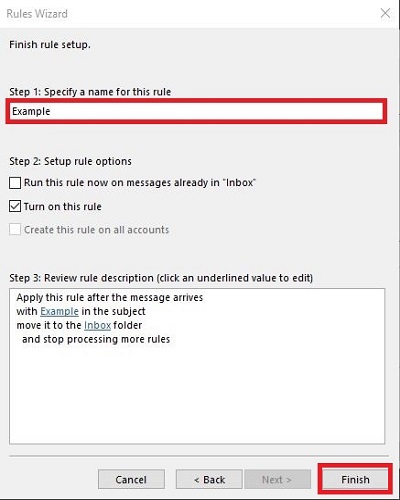 11. A small loading bar will appear once Outlook starts sorting your inbox. Depending on the number of emails, it may take a while. Let the process finish and from then on the rule will be executed.